Congratulations to Sheryl Wellington and Theresa Rogers on winning the Bowls North Harbour Champion of Champion Pairs title over the weekend.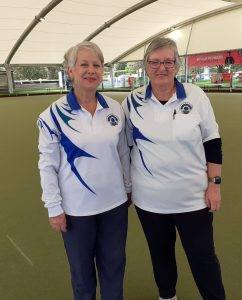 An awesome achievement in beating off some extremely strong opponents and with it being Theresa's 5th title, it earns her a GOLD STAR.

Here is the report By Lyndsay Knight.
" Mairangi Bay's Theresa Rogers is only a season out of junior ranks but already she has won the centre's coveted gold star award.
 Rogers gained her fifth title when she and club-mate Sheryl Wellington won the Bowls North Harbour champion of champion pairs title in the final against Birkenhead's vastly experienced Ruth Lynch and her lead Barbara Staal at Orewa earlier today.
 For Wellington, originally from Bay of Plenty, it was a milestone as well. It was her first centre title despite having been a consistent performer, especially at club level, for some seasons. The Mairangi Bay combination won 17-12, having just scraped through in Saturday's semi-final, 14-13 over Takapuna's Beryl Macdonald and Karen Subritzky.
 By contrast, Lynch and Staal had a much more comfortable time in their semi-final, beating Helensville's Deb Presland and Kelly Clark 19-12, after Presland and Clark had earlier ousted one of the favoured pairings, Orewa's Lisa Parlane and Elaine McClintock 15-8.
 The win by Rogers and Wellington denied Birkenhead the chance of collecting a double as in the men's event Birkenhead's Tony Grantham and Randall Watkins added to their already imposing records.
 In the final they beat Riverhead's Steve Cox and Duane McDonald in a close contest 19-15. It was the 21st centre title for former Black Jack Grantham and the sixth for Watkins. In the semi-finals Grantham and Watkins beat Northcote's Brent Malcolm and Greg Taylor 12-10 and Cox and McDonald beat Warkworth's Mike Beretta and Stewart Macdonald 17-12.
 In the earlier rounds Cox and McDonald eliminated one of the favourites, Browns Bay's legendary pairing of Colin Rogan and John Walker 17-15
 Meanwhile, both North Harbour's representatives in the national 3-5 competition, Takapuna in the open and Helensville in the one-to-fives, narrowly missed making the play-offs in Wellington.
 Both went down to tie-breakers, with Takapuna losing to Counties' Manurewa and Helensville to Papakura, also from Counties. "