On a windy, blustery day we had 26 teams playing the Arena/Arvida Living Mixed Triples.
With some of the men planning to play in the Rotorua Tournament, a number of the teams were not playing with their usual players. When the Rotorua tournament was later cancelled and those players then found that they had been replaced in their usual teams, so found they either had to make up new teams of slot into a different team.
The winners on the day (the only team with 4 wins) were a new team entered from Takapuna – Ian Mackenzie, Keiko Kurohara and Irene Costello with 4 wins, 28 ends and 43 points.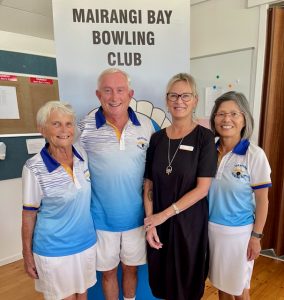 Second was John Gledhill, John Smith and Gerd Hutcheson with 3 wins, 35 ends and 59 points.
Third was John Miles, Bevyn Darlington and Caryl Miles with 3 wins, 35 ends and 55 points.
Fourth was Murray Radojkovich, Brian Rogers and Theresa Rogers with 3 wins, 33 ends and 55 points. Fifth was Elaine McClintock, Colin Rogan and Bruce McClintock with 3 wins, 32 ends and 51 points.
Report by Theresa Rogers