Tuesday the 24th January 2022 was a beautiful sunny day for bowls, with 26 teams entered for this months Arvida Mixed Triples tournament, (formerly the ARENA Living).
Mairangi Bay greens were running beautifully and we welcomed teams from Takapuna and Birkenhead.
The winners with 4 wins 34 ends and 59 points were Peter Orgias, Jeanette Orgias and David Payne.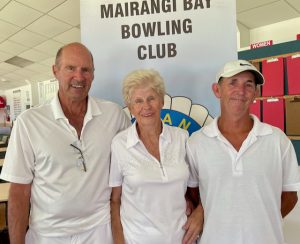 Second with 4 wins 31 points and 62 points were Elaine McClintock, Colin Rogan and Bruce McClintock. Third was Alan Daniels, Joy Watkinson and Michael Thomas with 4 wins 27 ends & 44 points. Fourth was Larry Cain, Marion McDonald and Tony Trent with 3 1/2 wins, 32 ends and 54 points. Fifth was Sheryl Wellington, Judi Farkash and John Valentine with 3 wins 29 ends and 62 points.
Please note that all entries must be made online now via our website.