OK, so why were you not in the Haggle field playing on a brilliantly fine Saturday afternoon?  It's a single entry, 2-4-2 format, eight ends event, with teams teams drawn so that experienced players are paired up with new players.  This makes for a fun afternoon which, with the chatter and banter, together with the sixties music, makes it a really enjoyable way to spend the afternoon.
This week, there were 14 teams competing, which is a fantastic number, however we can manage more participants so why not be involved.  The sheet for next Saturday is up and is filling fast. So nice to see some of our newer bowlers featuring in the winners lists.
The winners this week were the team of Noelene Culpin and Russell Parkinson, as they managed 3 wins and amassed 17 ends.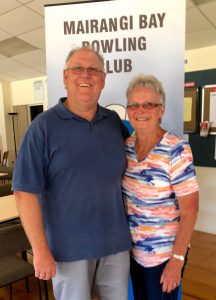 In second place were the only other three winner, being the team of Peter Orgias and Jim Center, who won 14 ends.  And in third, with two and a half wins were Stuart Jamieson and Mick Taylor who had 15 ends and edged ahead of the other two and a half winners, Colleen Rice and Rosemary Nicol who collected 14 ends.
This is the time of year that the weather is not too hot and the greens are running superbly, so take advantage and join in the fun next week.
Special thanks to Gayle Wilkinson who took on the task of ringing around to make sure there were an even number of teams and therefore no byes, to Ian Hardy for his excellent organisation and to those who arrived early to set up the greens and put out the marker boards.  The afternoon only works with the help and support of these volunteers and so if you have not contributed to the set up or to the tidy up after the game, please do consider making an effort to help out.  These things do not just happen by magic. Oh, and also, many thanks to our volunteer bar manager, Tony Trent who made the after match function so enjoyable. And good to have the Black Caps, Bay Oval test match, viewable on the Harcourts sponsored TV.