A great turnout of 32 players were out there playing on a sunny Saturday afternoon, on the natural grass greens, with no scrims and just a gentle, sometimes gusty wind.
Congratulations to Ian Hardy and one of our many up and coming new bowlers, Rosemary Nicol who combined to win all three of their games, with 14 ends won and 34 points.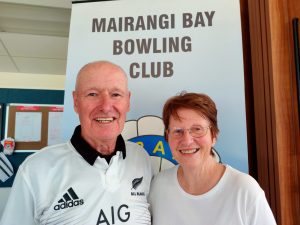 In second place were Alan Telford and Jeanette Orgias.  They also had 3 wins and managed 14 ends won with 30 points.  Elwynn Beatson teamed up with another of our new bowlers, Adrienne Whittaker and they took out third place by winning all three of their games, 13 ends and 42 points.  Well done!!
The fourth place went to the best two winner team of Enid Di Cesare and Neville O'Connor .