It got a little chilly when the sun disappeared behind the clouds and the wind started to gust, however the weather conditions were balanced by the pleasure of playing on the natural grass green.
Another full field and a welcome to a number of our newer members who are taking part in the Saturday pm Haggle:  Adrienne, Flora, Rosemary, Rick D, Rick G and Jim.
There were 5 teams who managed 3 wins and 4 prizes.  The winners was the team of Beth Drummond and Neville O'Connor.  Well done!!!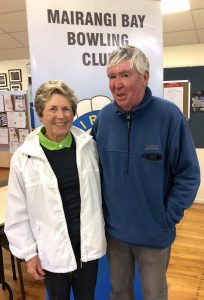 Second were the threesome of Phil Humphries, Gayle Wilkinson and Mur Chhour.  In third place were Caryl Miles and Colleen Rice and the fourth place went to David Payne and John Lindsay.