It was great to be out in the fresh air and we were lucky enough to dodge most of the showers that blew through the bay.
The team to best manage the quick green and the cross wind (really just a breeze) was the team of  Leon Wech, Pat Clarke and one of our new members and a new bowler, Mikey Thomas.  Congratulations.  They were the only 3 winner.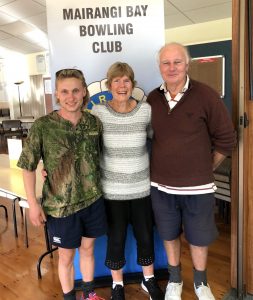 Right on their heels was the talented team lead by Tony Trent with Norm Clarke and Garth Partridge.  They amassed 2 wins and 14 ends to out-run any of the other two winners.  Dragging along in third place, with 2 wins and 11 ends were Colleen Rice (SKIP), Matt Stratton and Bob Murphy, a visitor from Birkenhead.  And back down in fourth place was the team of Barry McCrystal, Pam O'Connor and Flora McDonald who managed a creditable 2 wins and 11 ends, however they fell short of third place as they had just 18 points, two behind.
Thanks for coming all the rest.  A great afternoon , lots of fun, great music (thx Ian) and a mix of experienced and new bowlers.  Good to see you all.
The sheet for next Saturday is up outside the main doors and is filling fast.  Remember, start time for the Saturday Haggle over the winter months is 12  noon.
Many thanks to Gayle and Ian for organising the day and to Colleen for managing the bar and tidy up.