After the bowls, Kara Barnston, and Frano Botica greeted the bowlers with a glass of bubbles and they were very generous with the many top ups, not letting the flutes go dry.
We were lucky to have an anonymous sponsor of the hams.
The conditions were tricky with 36 knots of Westerly winds carrying many bowls through to the ditch or making them come up short.  Sandra Coombe used the "pick a ticket from the ice cream container" method of selecting the teams.  This makes for a fun afternoon with some very experienced bowlers being reminded of the pains of being lead and some new bowlers given the opportunity to skip their team.  There were 3 games of one hour each and as another positive of the team selection method, the prize winners were spread mostly amongst social and new bowlers (with a couple of experienced stars sneaking into the prize places)
The only 3 winner in the ladies was Linda Valentine with Marian McDonald with 2 1/2 wins in second place, each winning a ham.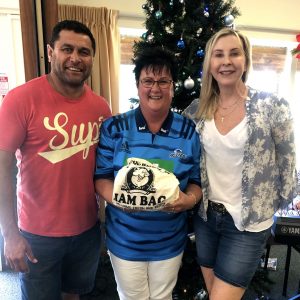 And 3 men had 3 wins & each won a ham. Top scorer was Barry McCrystal, then Michael Cairns-Cowan & Les Boulton.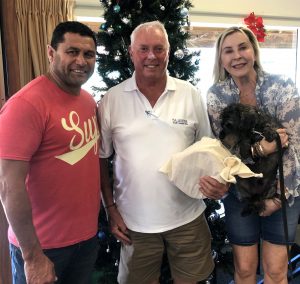 Congratulations to all the winners and to the all the participants on a fun afternoon of bowls.
David, Gerd, Gaye and Colleen (sorry if I missed any other helpers) took on the catering for the after match social function and it was fantastic to see so many partners arriving to enjoy the Christmas cheer and the music provided by Keith Berman and the Hi Jacks.