Hi Everyone,
Last weekend saw the running of the Junior 1-5 Singles Championships.
Both days were fine, with a little wind and a chilly start.  This event had been postponed due to lockdown and for the Women we only had a field of four with a number of players unavailable.  For the Men there were eleven starters so a two life system was run.
With only four players in the Women's a round robin was played.
In the first games, Gaye Horne beat Flora Macdonald 21-5, a convincing win by Gaye.
Judi Farkash beat Joy Finney in a much closer game 21-16 with Joy putting a number of bowls on the jack but eventually Judi's consistency won out.
Second game saw Gaye play Joy Finney: with time up on the clock Gaye came out the winner 16-14, again with Joy playing some lovely bowls but Gaye again was too strong.
Judi beat Flora 21-8, a good strong win.
So the last round meant that the winner of Gaye and Judi would be the champ.
Flora and Joy played their last game with Joy coming out the winner making it a difficult day for Flora.
Judi started off well in the final but Gaye came back to get in front, Judi then retook the lead with some lovely draw bowls, particularly on her last or second last bowl.  Not to be outdone Gaye clawed her way back and on the last end, with time up, it ended 18 all.  An extra end was played, Gaye was holding two but there was room to draw. Judi drew the shot, Gaye played a slightly weighted shot looking for the jack or Judi's bowl, but missed.
Judi was the new Champ in a close, hard-fought game that could have gone either way.
Well done Judi Farkash.
2020 / 2021 Women's Junior Champion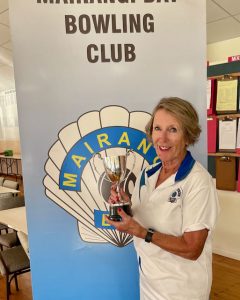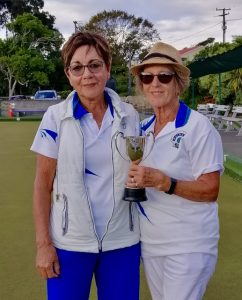 Also well done to Gaye who made the Quarter finals of the North Harbour Women's singles last weekend along with Colleen Rice and Theresa Rogers.  Unfortunately they all lost their quarter final, with Gaye playing the favourite, Selina Smith, in that game.  Well done to all those players.
There were some exciting games in the Junior Men's.
Graeme McGregor got revenge for his first year singles loss beating Michael Thomas 21-6.
Barry Butcher lead Stuart Mackay 20-11 and lost 21-20.
Bob Mullen lead Rick George 13-3, then went on to lose 21-15.
Glyn Taylor who had a bye in the first round had a good game in the second beating Michael Thomas, meaning Michael had lost his two lives.
Ian McGovern had two tough games losing to Allan Langley, the hot pre-event favourite, 21-8, and also to Bob Mullen .
Jim Center had a close game in his first losing to Rick Dixon 21-15; he then beat Barry Butcher 20-17.  Jim had a difficult day with his bias, I believe around 12 for the day, a nice pot of gold to go into the hospice box.  So Jim, that is one gold coin for each wrong bias not one for the lot. (he he).  As an aside Jim missed out in getting into the 1-5 NHB 1-5 singles but as that event was cancelled due to the weather, Jim has officially entered for the new date in June.  Well done good luck with that event.
The third round was for the two and one lifer's still left.
Stuart Mackay lost to Allan Langley 21-10, Glyn Taylor  lost to Graeme McGregor 21-14, Jim Center lost to Bob Mullen 21-10 and Rick Dixon beat Rick George 19-14.
Sunday we were down to six.
Allan Langley and Graeme McGregor, both two lifers, played, with Allan winning 21-14.
Bob Mullen beat Rick Dixon 21-7 meaning Rick was GONE!!
Stuart Mackay beat Glyn Taylor 21-12,meaning Glyn was GONE!!
Next round Allan Langley, still with two lives, beat Bob Mullen 21-14. Bob played some great bowls but Allan was just too strong. Bob was GONE !!
Graeme McGregor beat Stuart Mackay 21-2. Great bowls by Graeme and Stuart was GONE !!
Now there were two: who works these systems out,  mentally tough for the spectators, when will this event finish?
Allan Langley with two lives, plays Graeme McGregor with one life.  Allan wins 21-12 a great effort. He was the one to beat from the start and just bowled consistently both days.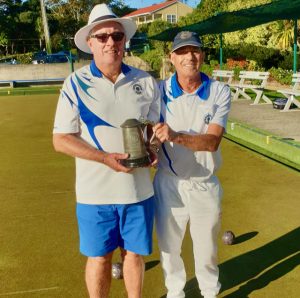 What an effort by Graeme, second in the first year singles and now second in the 1-5.  He played some great bowls and was consistently around the jack.
For Allan a top result as he is now out of 1-5 Junior's.  The news that Allan won't be back next year was greeted with a loud applause from the other bowlers.
Well done to all the competitors.  A big thanks to all the Markers for both the Men and Woman.  Thanks also to the supporters .
And special thanks to Gerd and David for running both these events.
This weekend 8 & 9 May, sees the running of the Junior 1-5 any combination pairs.  We have eight teams entered.
Alan Daniels
Junior Convenor
P (09) 4791489      M 0272900127