Hi Everyone,
Last Saturday saw the running of the Men`s first year singles.  We had a field of five, and a round robin was played with a time limit of 1 hour 20min for each game.
Each bowler played four games and marked one.
The start was delayed due some heavy rain but got underway around 9.30.  The wind was strong and got more gusty as the day went on making it very difficult for these new bowlers.
I have to say I was impressed with the standard, which bodes well for the future.
The winner was Michael Thomas with 3 wins out of 4 games.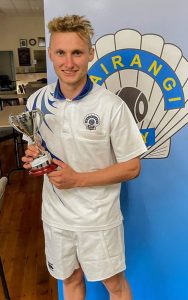 Michael Thomas – Year 1 Men's Champion
Second was Graeme McGregor with two wins.
Third was Bill Roan also with two wins but with a lower differential than Graeme.
Fourth was David Kirk again with two wins but with a lower differential than Graeme and Bill.
Fifth was Barry Butcher who did not have a win but had a couple of very close games.  Barry bowled better than his result shows.
Well done to Michael, he will have his name on the honours board.
The other four bowlers did consider putting in a protest against Michael because he was a lot younger than them.
A big thank you to David for running the event and getting it finished on the Saturday.  Also thanks to Garth and Colleen for marking and also to Garth for coaching the markers.
Hopefully there will be a first year tournament this season at Manly.
Sunday was final day for the NHB Junior, any combination, 1-5 pairs played at Warkworth on their fast carpet green.
Gaye Horne and Allan Langley failed  to qualify from Saturday's qualifying section.
Joy Watkinson from Mairangi Bay, along with Skye Renes from Takapuna, qualified as one of the next best three out of the five pools.
Joy and Skye won their quarter-final and then their semi-final 15-13.  They played Matthew Higginson and Laurie Kean from Orewa in the final, they also were one of the best three outside the pool winners.
Joy and Skye won the final in a close game 16-13, an excellent result against a very strong team.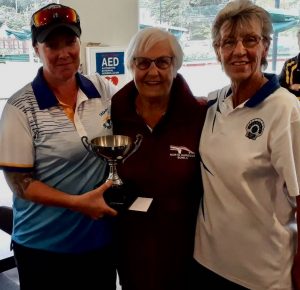 Skye Renes & Joy Watkinson – Winners BNH AC Junior Pairs
This is Joy`s last year in Juniors, so this is a great way to finish.  Well done Joy, you have been bowling well since you joined our club.
Last Friday saw the final day of three, for the Women`s Cadness Cup .
Our team was made up of four 1-5 Junior woman – Gaye Horne, Joy Watkinson, Judi Farkash and Hanaan Shahwan.  They had three wins out of three on the first day, and two wins out of three on the second day.
On Friday Hanaan was away,so Gayle Wilkinson stepped up us her replacement.
In the first game they beat Milford 26-11. Milford were the eventual winners.
Second game another strong win, this time over Omaha 22-4.
Final game against Takapuna, Taka holding two, behind on the scoreboard by one, Gaye with the last game needs to take out one of the Taka shots or move the jack back to Gayle's toucher sitting in the ditch.
The story is she missed the jack by one millimetre.  So unfortunately they went down 17-18 .
Three teams ended up on 21 game points with the highest differential going to the Milford team followed by Manly.  Mairangi was third, a draw in that last game would have given them the title.
What a great effort  by these 1-5 Juniors and also the oldie Gayle.
Please note the NHB 1-5 Junior singles cancelled two weeks ago due to the inclement weather, has been rescheduled to the weekend of June 19th/20th .
Qualifying Saturday, Finals Sunday.
If you had not entered but would now like too, enter online on the Bowls North Harbour website.
If you did enter and now cannot play, please email bowls@bowlsnortharbour.co.nz.
The Club Junior 1-5 any combination pairs is being held on Sat/Sun 8/9th June.
We have around 7 teams down to play, if anyone else is keen let me know and I will see if I can a play-mate for you.
Friday 14th May is Closing Day and Prize Giving, starting at 1pm.
Regards
Alan Daniels
Junior Convenor