The Men's Handicap Singles Championship was completed on 27th February, the day before our latest lock down. Qualifying was held in early December resulting in the top 16 to compete in the finals.
The Quarter Final results were
John Gledhill defeated Norm Clarke 21-14
David Payne defeated Brian Nolan  21-4
Barry McCrystal defeated Allan Langley 21-16
Alan Daniels defeated Kevin Robertson  21-18.
Semi Finals
David Payne defeated John Gledhill 21-19
Alan Daniels defeated Barry McCrystal   21-14.
Final
Daniels v Payne both on a Handicap of 2.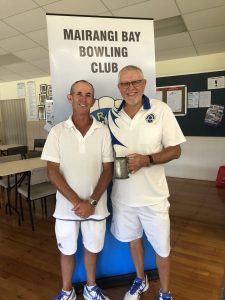 It was a tense and pulsating final, which enthralled the crowd. David got way early with a good lead. Alan responded by clawing his way back. It was neck and neck through the middle ends with both bowlers playing some amazing bowls. Alan edged away to a 18-13 lead but then David picked up one followed by a four to even the score 18 all. The next four ends were shared with both bowlers taking the shot when the other bowler was holding .
20 all, so the last end would find the winner.
David put one reasonably close and Alan put in a short bowl on the draw hand which resulted in both bowlers changing to the wide hand. David fared better on that hand getting two behind the jack and putting his last two inches in front of the jack. Alan was four down with one bowl left.
He played  a weighted shot on the narrow hand and clipped David's bowl out and rested his bowl 6 inches from the Jack.
A great game, some excellent bowls and we had a new Champion.
Unfortunately for David, this continued a run of being runner up.