We are way past the shortest day and the first day of the new month turned on a cracker.  Yes, still a chill in the air, however perfect conditions for winter bowls and a full field on the Harcourt's Community Carpet green.  With the popularity of our Thursday Triples it has sometimes been a challenge to get into the field, however the system that is running means that any team that misses out one week, is promoted to the top of the entry sheet for the following week.  A bit of a juggle, but the popularity is a good problem for the club to have.
This week's winners was the highly fancied team of Gayle Wilkinson, Mike Wilkinson and Alan Daniels, with 4 Wins, 18 Ends and 42 Points.  They all played like the champions they are and were the only team to have 4 wins !!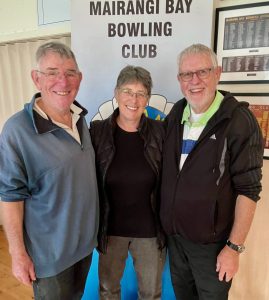 2nd – 3W, 32E, 64P – Phil Chisholm, Ric Lydford and Theresa Rogers
3rd – 3W, 22E, 48E – Ruth Lynch, Mick Moody and David Payne
4th – 3W, 21E, 44E – John Miles, Des Lowe and Roy Finlay
am prize to Stuart Jamieson, Geoff Ladd and Tony Trent
pm prize to Leon Wech, Baz McCrystal and Judi Farkash
Another knock on from the popularity of the Thursday tournament is the success of the two Tuesday events.  Our club is humming, so get involved, get your names onto the entry sheets and be part of the fun. See you out there sometime soon.
Many thanks to David Pearse for yet again running a fantastic day of bowls.  We really appreciate your knowledge and skills David.  You make even the difficult days, the days when people are unable, at the last minute, to play, run so so smoothly.  Thank you.