Thanks to all who helped get us back to COVID-19 Level 2.  It was great to be able to be back playing in ideal conditions and on our wonderful grass greens.  Welcome to our visitors.  Hope you enjoyed the greens and the hospitality.  Thanks to Linda and John for our scrumptious morning tea.
A very competitive day today with just the one pair that managed to win all four games.
Congratulations to Steve McGregor and Tony Popplewell who amassed 40 Ends and 74 Points to go with their 4 Wins.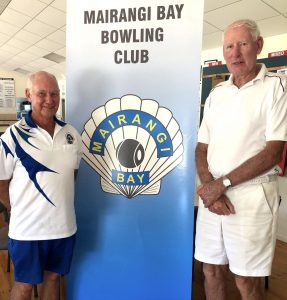 Notice the social distancing in this photo?  Nice work Tony and Steve.
2nd – 3.5W, 34E, 75P – Ruth Lynch and Ian Hardy
3rd – 3.5W, 29E, 53P – Peter Orgias and Allan Langley
4th – 3.5W, 29E, 35P – Leon Wech and Bevyn Darlington
am – Brian Rogers and Bruce Aley
pm – Kevin Sturgeon and David Lloydd