A down pour early in the morning pushed the start time back an hour to 10:00 am, as the greens were completely flooded.  They recovered well and the format for the day was altered from 2-4-2 to three bowl pairs of 8 ends, no time limit.  In round one, most games were completed within 45 minutes and the break for morning tea was taken.
At the break the game format was changed to 10 ends for the next three games, with fingers crossed that the rain showers would stay away. And stay away they did with the day getting warmer and warmer throughout the afternoon.
These condition suited many teams with 3 teams winning all four of their games.  Best on the day were Theresa Rogers and Phill Chisholm with 4 wins, 26 ends and 56 points.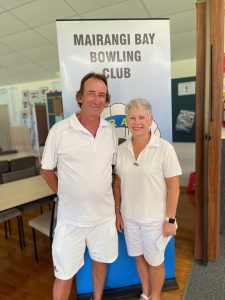 2nd – 4W, 23E, 44P – David Lloydd and Kevin Sturgeon
3rd – 4W, 22E, 50P – Kevin Cameron and John Lindsay
4th – 3W, 19E, 34P – Baz McCrystal and David Payne
5th – 2.5W, 21E, 41P – Kevin Robertson and Brian Nolan
6th – 2.5W, 21E, 40P – John Gledhill and Roy Finlay
and the prizes kept on flowing with George Jones and Neville O'Connor winning the am prize and Tony Popplewell and Steve McGregor winning the pm prize.
Congratulations to all.