Fantastic conditions for bowls once again and a strong field including visitors from Birkenhead and Takapuna.  Laser Plumbing Mairangi Bay were the sponsors for the day and they were introduced by Trevor Tozer, a Life Member of Mairangi Bay Bowling Club Inc.
Many thanks to Laser Plumbing Mairangi Bay for supporting our fixtures for many years. Laser Plumbing Mairangi Bay is a specialist residential and commercial plumbing contractor and gas fitting team. Whether that is a large commercial service contract or a simple broken tap or drain at your house, they are ready to help you.   Phone (09) 913 8370
For a full understanding of their services, visit their website by clicking the following link
https://mairangibay.laserplumbing.co.nz/
Like them on Facebook to help them promote their business and to support one of our valued sponsors.
https://www.facebook.com/Laser-Plumbing-Mairangi-Bay-212208728800193/
There was only one team that managed to gain four wins.  Congratulation to Lionel Drew, Ric Lydford and Phil Chisholm on their victorious day, with 4 Wins, 30 Ends and 58 Points.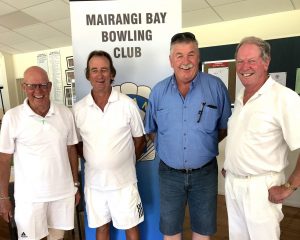 2nd – 3.5W, 25E, 43P – Mick Moody, Ruth Lynch and Evan Thomas
3rd – 3W, 26E, 43P – Leon Wech, Barry Butcher and Barry McCrystal
4th – 3W, 25E, 40P – Tony Trent, Tony James and Ron Horne
5th – 3W, 24E, 61P – Brian Nolan, Kevin Robertson and Bob Mullen
am prize – Kevin Sturgeon, Trevor Ford and David Lloydd
pm prize – Arthur Beale, Brian Rogers and Garth Partridge
NEW ZEALAND – What a wonderful place to live
The North Shore – What a wonderful place to live
Mairangi Bay Bowling Club – What a wonderful place to bowl !!!!!!!!!