The rain stayed away, however the wind gusts added to the "fun" of bowls on the Mayfair natural grass green.  With such a busy time in the bowls calendar, there were just 16 teams entered, however the competition was fierce and tight.
The winners with 4 wins & 28 ends was the team of Peter Orgias, Jeanette Orgias & Allan Langley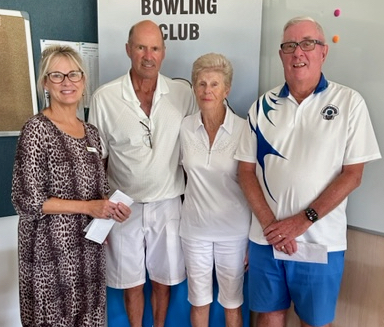 2nd – 3W,  32E  – Barry Sullivan, Brian Roger s& Kevin Cameron
3rd – 3W, 28 E – Shaun Goldsbury, Skye Reynes &  Chris Charles
4th -3W 26E – David Payne, Evan Thomas & Ian Hardy
AM Prize – Alan Daniels, Joy Watkinson & Ron Horne.  2 wins 12 ends
PM Prize – Bob Telfer, Bevan Smith & Derek Brian. 2 wins 16 ends
Prizes were presented by Ange from our valued sponsored, Knightsbridge, the North Shore's best kept secret.