The breeze was up, the temperature was down and the bowls were running hot.
Once again another great day of bowls, complimented by a scrumptious morning tea. Many thanks to the organisers and the workers.  Much appreciated.
Talking about HOT bowls, with the quality of the teams participating, if a team dropped a game, they were out of the prize hunt.  No room for error.
Congratulations to our winning team of Jan Gledhill and Colleen Rice who had 4 Wins, 35 Ends and 61 Points.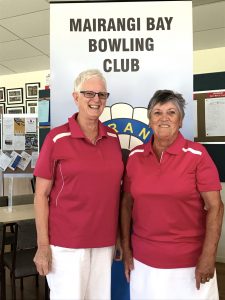 2nd – 4W, 33E, 59P – Mick Moodie and David Payne
3rd – 3.5W, 34E,70P – Bruce Aley and Brian Nolan
4th- 3.5W, 33E,71P – John Miles and Des Lowe
am prize – Ron Horne and Tony James
pm prize – Ruth Lynch and Ric Lydford
Many thanks to all who support our Thursday Open Tournaments.  Lots of fun and strong competition. Come along and join us next Thursday 28 January for Open Any Combination Triples starting at 9:15 am