Even though many members were involved in club championship events, Bowls North Harbour events and the Birkenhead birthday tournament, we had a field of 24 playing the Saturday pm Haggle on the Knightsbridge grass green.
For anyone who put a dollar on Chris Tegg to make it 3 weeks in a row, we would appreciate your shout of the next round of drinks from your winnings.  Congratulations Chris.  He was paired with the mighty Michael Cairns-Cowan and they were the only team to score 3 wins.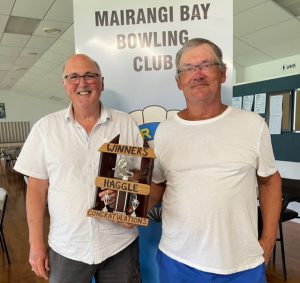 1st – 3W, 14E, 21P – Chris Tegg and Michael Cairns-Cowan
2nd – 2.5W, 10E, 21P – Graham Ward and Mick Taylor – the stick men
3rd – 2W, 12E, 23P – Muy Chhour and Roger Potter
4th – 2W, 11E, 20P – Wayne Glogoski and Peter Prichard.
We welcome Rhonda Dredge, a new bowler.  Rhonda started to show some good form and managed some shot saving bowls throughout the afternoon.
Many thanks to the band of merry men who helped mark up the greens, set up the rinks and organise the day.  Interesting to see the skipping skills from Barry Butcher as he jumped the chalk string.   Russell once again did a sterling job of managing the bar for the after match function and he was helped by Enid, Garth and Michael with the draw and the results.