We are so lucky to have yet another mid winter day when the weather did not disrupt play.
The even quality of the competition determined that there was no one team that managed to win all four of their games.  This competitiveness is adding to the popularity of the Thursday Mairangi Bay event.  Check out how close the results were!!
The winning team  was John Miles, David Lloyd and Ian McGovern with 3.5 Wins, 21 Ends and 36 Points.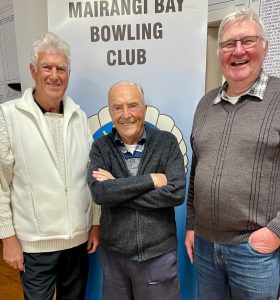 2nd – 3W, 20E, 50P – Kevin Cameron, Arthure Beale and Brian Rogers
3rd – 3W, 20E, 42P – Larry Cain, Gaye Horne and Ron Horne
4th – 3W, 20E, 40Pm- Peter Orgias, Janette Orgias and Allan Langley
am prize to Alan Daniels, Stuart Jamieson and Stuart Mackay
pm prize to Ruth Lynch, Evan Thomas and Shaun Goldsbury
Lucky dip to Murray Radjokovich, David Payne and Colleen Rice