Sponsor for the day was Rosedale Village.  The Rosedale Village offers the best of both worlds, the freedom of affordable independent living, with exceptional care on hand when needed.  Currently there are a number of units available and inspection is welcome.  The open home dates are Friday 14, Sunday 16, Friday 21 and Sunday 23 May 2021 from 10:00 am to 2:00 pm or contact Sharalon Sutherland on 021 717 457 to make a time to suit you.
Because of the generous sponsorship from Rosedale Village, the prize list was extended to the top 6 places, and a morning prize, an afternoon prize and a lucky dip.
C stands for Carpet.  G stands for Grass.  With the Knightsbridge Grass green under maintenance, the four games of the Rosedale Village Open Pairs were split, with each team having two games on the Harcourt's Community carpet and two on the grass.  There could be no complaints about the weather as we were lucky that the day went from good to great and for those playing on the carpet this meant they needed one less layer of clothing;  what a sun trap!!   The C stands for carpet is a reference to the coding on the cards and where the games are to be played.  Most of the field picked up on this and were in the right place to start the day, however there is always one – not to be named here, they know who they are.
Winners on the day was the team of Leon Wech and Brian Nolan with 4 Ends, 29 Ends and 63 Points.  Congratulations guys.  A great result!!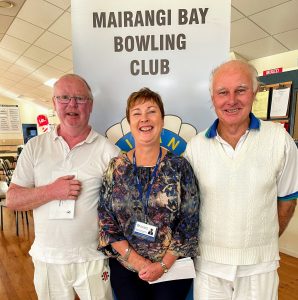 2nd – 4W, 28E, 58P – Lionel Drew and Ric Lydford
3rd – 4W, 24E, 50P – Phill Chisholm and Tony James
4th – 4W, 23E, 47P – Ian Coombe and John Valentine
5th – 3W, 28E, 45P – Kevin Cameron and John Lindsay
6th – 3W, 27E, 54P – Arthur Beale and Brian Rogers
am prize – John Miles and Des Lowe
pm prize – Kevin Sturgeon and David Lloydd