A good number (24) turned out on Saturday afternoon for the haggle.  With no rain and little wind, some good bowls were played.
There were 3 three winners on the day.
The best team was Con Kater and Mike Wilkinson with 16 ends.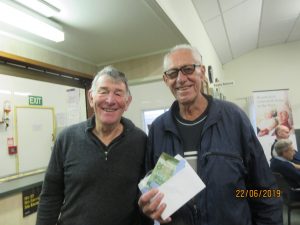 Second with 14 ends was Caryl Miles and Jeanette Orgias.
4 ends behind them with 10 ends was John Miles and Russell Parkinson.
The best of the two winners in 4th place was Steve McGregor and Kevin Robertson.
Anyone thinking of playing the Haggle next week, be aware of the AGM at 9.30 and the need for lunch before the start time of 12.30.
 Regards Rex.