The Saturday of Easter and a different look to the Saturday pm field with many regulars away and many new participants.  There was a very strong field with many of our experienced bowlers joining in on what was a stunning afternoon. Very interesting to see how different the greens run when they have not been rolled or cut for 48 hours.  However, as they say, the conditions were the same for all and therefore the ones that could adapt the quickest were the ones to shine through.
Congratulations to Steve McGregor and Bill Roan who had 3 Wins, 17 Ends and 21 Points.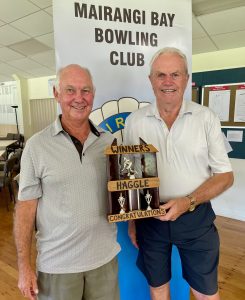 Steve McGregor and Bill Roan
2nd – 3W, 15E, 29P – Caryl Miles and Muy Chhour
3rd – 2W, 14 Ends 50P – Brian Nolan and Janette Orgias
The starting sheet for Saturday 10 April is up in the main entrance.
1:00pm start, 3 games of around 1 hour, single entry, dress mufti, partners drawn mixing experienced bowlers with not so experienced bowlers.  txt entries to Gayle Wilkinson if you are not able to get down to the club.
We look forward to welcoming back the regulars who were away over Easter.  Stay safe everyone.