Rain, rain went away and gave to us a special day for bowls – no wind!!
With no 4 winners this week, the winners are Chris Taylor, Jan Calcott and Bevan Smith with 3 Wins, 23 Ends and 41 Points, who went into the last game sitting on three wins – oh, dear!!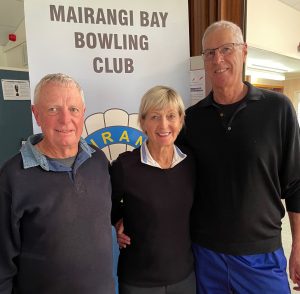 and oh so close behind were the next 3 place getters.
2nd – 3W, 22E, 52P – Ruth Lynch, Evan Thomas and Ian Hardy
3rd – 3W, 22E, 48P – Leon Wech, Baz McCrystal and Tony Popplewell- another team to go into their last game sitting on 3 Wins !!
4th – 3W, 22E, 47P – Peter Orgias, Gordon Jenkins and Allan Langley
am prize – John Gledhill team (other names not on the card??)
pm prize – Alan Daniels, Jim Price and Neville O'Connor