Despite the constant showers throughout the day & having to play on the carpet as Hamish was spraying, the ladies managed to play 4 games of triples.
The winners were Sandra Coombe, Gaye Horne & Gayle Wilkinson with 4 wins, 25 ends & 47 points.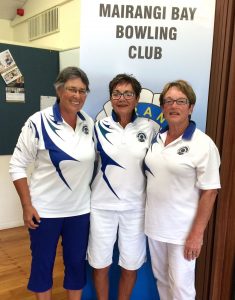 Runners up were Muy Chour, Margaret O'Carroll & Barry McCrystal with 3 wins, 26 ends & 47 points. Our thanks to Barry McCystal for filling in for us at the very last minute.