The Men's Championship Fours were held on Saturday/Sunday 4/5 Jan and though the weather was fine it was overcast and extremely windy.
10 teams took part and after the first day of qualifying we had 4 contenders.
The teams of Ian Coombe, Leon Wech, Peter Orgias and Ian Hardy were the ones that made it through to post section.
The weather was not quite so bad on Sunday and the first game finished was Hardy's team who accounted for Wech's team 19-11, then Coombe's team defeated Orgias 19-11, the same score as their previous game.
So to the final, where Coombe scored on more ends to run out the winners 12-10.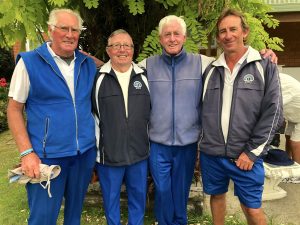 The team of Ian Coombe, Phil Chisholm, John Valentine and Brian Rogers now go on to compete in Bowls North Harbour Champ of Champ Fours in May.
During the last game the sky took on a funny sort of hazy glare which by 4 o'clock had become quite pink – Aussie bushfires reaching NZ as reported in Mondays paper.