The Men's Championship Fours attracted 10 teams on Sat 9 Jan and, playing under new conditions where 2 and 3 winners qualify for post section play, we found after 2 games, we had a situation where 5 teams had 2 wins and 5 teams had 2 losses, so no need to play the 3rd game.
The post section draw was done and we had 2 teams playing the first round and 3 teams with a bye.
After a short discussion the 2 teams, Wayne Glogoski and Peter Orgias decided to play the first post section game on Saturday, leaving 4 teams to play Sunday.
Peter Orgias won this game 18-3 against Wayne go on to play Ian Coombe on Sunday, with Murray Radojkovich playing Leon Wech.
Leon won his game against Murray 14-9, and Peter defeated Ian 16-7.
The final saw the Orgias team build a steady lead till the 12th end where we saw Leon get 3 shots to close the game to 12-11. A close contest finally saw Peter prevail at 14-13.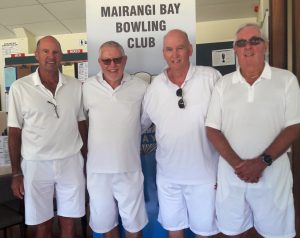 Congratulations to the 2021 Men's Championship Fours winners, Peter Orgias, Alan Daniels, Kevin Robertson and Allan Langley.
Report by David Pearse