The weather forecast got it spot on for the Forrest Funeral Services sponsored Open Triples.  The day started overcast and humid, went to fine, sunny and warm.  Then in the afternoon the rain, which started as constant drizzle, moved to an annoying splatter, the breeze came up and the temperature dropped.  Further South there was snow on the Desert Road and it felt like it may even snow in Mairangi Bay.
It was just as well that we were all fueled up and treated to a scrumptious morning tea.  Many thanks to our volunteers for all the preparation, serving and cleaning up.  It was most appreciated.
The visiting team of Ian McKenzie, Wynne Gray and Dennis Hale had three and a half wins, took out the top spot and were presented their winnings by Graeme Rodgers JP – Managing & Funeral Director at the Browns Bay branch of Forrest Funeral Services.  Well done and congratulations Ian, Wynne and Dennis. We hope you enjoyed your day of bowls at Mairangi Bay and that you will return shortly.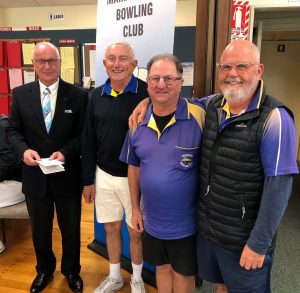 2nd – 3W, 22E, 42P – Des Lowe, Roy Findlay and John Miles
3rd – 3W, 18E, 35P – Arthur Beale, Brian Rogers and Kevin Cameron
4th – 3W, 18E, 33P – Garry Banks, Robyne and Jane
5th – 3W, 17E, 34P – Peter Orgias, Gordon Jenkins, Allan Langley
6th – 3W, 16E, 25P – Stuart Jamieson, Larry Cain and Steve McGregor
Many thanks to the support and sponsorship from Forrest Funeral Services. They have two location, in Browns Bay (09 426 7950) and Orewa (09 479 5956), with on-site chapels and reception facilities.