It was great to see two almost full greens competing for the first day of the ARENA Living sponsored, two bowl triples.  Many thanks for the support from all of the visitors and for the strong entry from our Mairangi Bay bowlers.  The season sure is underway – at last.
ARVIDA recently purchased the assets of ARENA Living to expand their presence in the New Zealand Retirement Village market in what was seen as a major expansion of their business.
https://www.rnz.co.nz/news/business/453594/arvida-buys-over-1000-retirement-villas-apartments-from-arena-living from RNZ.
The ARVIDA series will run through until the final Tuesday on 5 April when the cumulated points winners over the series will play off for the overall title.  Many thanks to Ange, Sales Manager for ARVIDA Mayfair and Knightsbridge, for letting us know about the changes and for letting us know that there are just a few villas currently available and also a small number of apartments.  Retirement living is extremely popular and although new assets are being established, there is strong demand for quality facilities and the wide range of activities provided by AVIDA.  Nice to have you join us Ange and we look forward to catching up again on the next of the series, 4 January 2022.
The results on Tuesday 7th December were:
Winners: Elaine McClintock, Colin Rogan & Bruce McClintock – 4 wins, 36 ends & 75 points.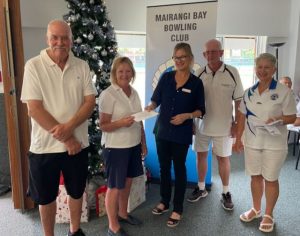 Second: John Miles, Bevyn Darlington, Caryl Miles – 4 wins, 36 ends & 73 points.
.
Third: Phil Chisholm, Jan Gledhill & Alan Langley – 4 wins, 34 ends, 71 points
Fourth: Murray Radojkovich, Brian Rogers, Theresa Rogers – 4 wins, 32 ends, 73 points
Fifth: Arthur Beale. Kevin Cameron, Janne Beale – 3 wins, 34 ends, 64 points
Daily Prize: Ric Lydford, Rachel Long, Marie Cooper – 2 wins in the afternoon, 15 ends, 32 points
Click on the following link to view the points table after this, the first round.