The 4th round of Arena Living Mixed Triples was played in very blustery & unpleasant conditions on Tuesday Jan 7th.
There were 2 teams each with 4 wins. In first place were Tony Popplewell, Pat Clarke & Tony Stanaway with 4 wins, 31 ends & 58 points.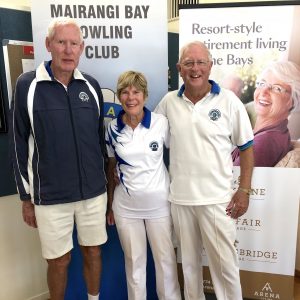 In second place were John Gledhill, Steve McGregor & Gerd Hutcheson with 4 wins, 27 points & 50 points.
The next round to be played on Tuesday February 4th is the last in the qualifying rounds, with the Final scheduled to be played on March 3rd when the top 10 teams will battle it out for the Arena Living Mixed Triples Cup.
The remaining teams will play a regular tournament – with their chances of winning much improved with the absence of the top 10 teams.