Round 3 got off to a good start with 22 teams being treated to a great morning tea supplied by Arena Living, fresh from their kitchen at Mayfair Village. Unfortunately the rain brought an early finish to the day's play, however we managed to get in 5 ends of the 3rd game before the greens began to flood.
In first place with 3 wins 23 ends & 51 points was the team of John Miles. Bevyn Darlington & Caryl Miles.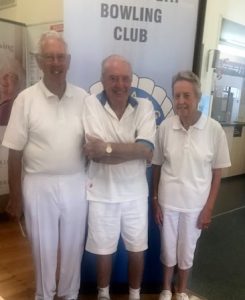 Second place went to Murray Radojkovich, Brian Rogers & Theresa Rogers.
Round 4 is scheduled for Tuesday January 7 th