Last Friday was finals day for the Bowls North Harbour Winter Cup.
It was fine but with a very cool breeze coming across the green which was very fast. That made for difficult bowling conditions.
The women played in a top four round robin.
The men played quarter finals in a knockout round.
The Awesome Mairangi Bay Pearls came out the winners.
Both Mairangi Bay and Orewa won their first two games of the round robin and were scheduled to meet in the final round.  This meant both teams were playing a final, winner take all.
Our team was Sheryl Wellington, Jan Gledhill, Colleen Rice and Theresa Rogers.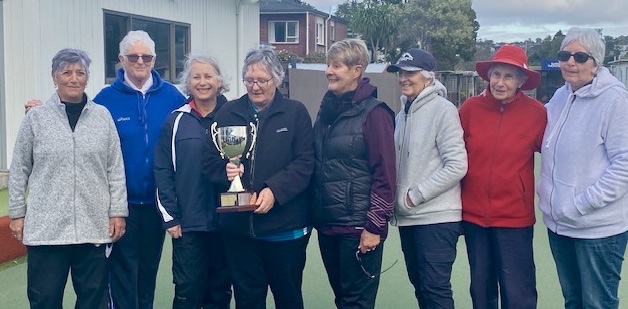 The Orewa team was Maureen Howden, Christeen Dalzell, Kerin Roberts and Jenny Daniels (no relation.)
Mairangi started slowly, Orewa were picking up bonus points and Maureen came in with some critical bowls when Mairangi Bay were holding.  After eight ends Orewa had the lead 14-9 but Theresa played perfect lead bowls on the 9th and 10th end with Colleen adding shots as well.  Mairangi had taken the lead with those two ends and led 16-14. The eleventh end turned out to be the final end as time elapsed with the skips playing their bowls.
Two down on the head, score 16 all after the bonus, Jan played an amazing bowl, it looked like it was going into the side ditch, Jan said that won't come round, but come round it did to a displaced jack.
Mairangi holding one, Sheryl played a great draw bowl to just make it two and Maureen was unable to draw in.
A great game to watch, both teams played very well, but Mairangi Bay were the 2023 Winter Cup champs.  Mairangi Bay last won the cup in 2010.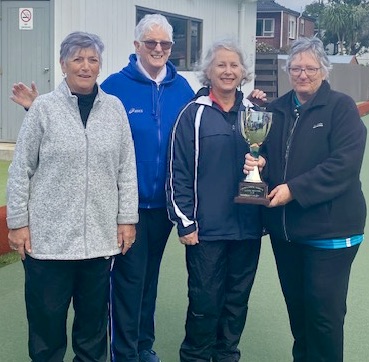 In the men's, Mairangi Bay, with a number of changes from the original team, played Orewa.
The team was Alan Daniels, Barry McCrystal, Phill Chisholm and Gordon Jenkins. Missing from the team were Peter Orgias, Allan Langley and Steve McGregor.
Mairangi Bay started slowly with the Orewa team sneaking in with the final bowl to grab the bonus or the final shot.  Despite the team not playing well, they were still in the game at 11-all with two ends to play.  The last two ends did not go well with Orewa again playing excellent bowls to take the win 16-11.
A disappointing result but our team did not handle the conditions as well as Orewa.  The Orewa team lost the semi-final to Pete Sheehan's Browns Bay team who in turn lost in the final to another Orewa team skipped by Wayne Harris 23-19.  That was a very close game and was 19-all with one end to go.
A BIG THANK YOU to all the Mairangi Bay supporters of which there were many, who struggled with the cold conditions, but they were all rewarded by a great win by the Pearls.
Report by Alan Daniels.