What a great weekend of bowls for the North Harbour Women's 7's held over the weekend at Mairangi Bay.  Great weather and excellent greens.
Eight clubs competed in two sections, with the top two in each section to play on Sunday.
Mairangi were drawn against Browns Bay, Birkenhead and Helensville.
Unfortunately Glenda Rountree pulled out on Friday after a broken water pipe caused major damage in her house.  We were left with only seven players and no reserves.
The team was
Singles: Colleen Rice,
Pairs: Gaye Horne and Joy Watkinson,
Fours: Sheryl Wellington, Jan Gledhill, Hanaan Shahwan and Rosemary Nicol.  This included three 1-5 players.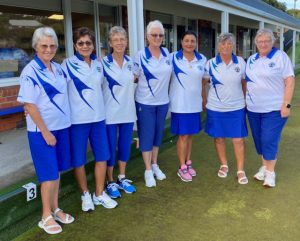 The team had an excellent qualifying day.
Against Browns Bay, they had wins in the pairs and the fours with Colleen losing the singles.
Against Helensville, Mairangi won all three disciplines.
Against a very strong Birkenhead team, Mairangi won the singles and the pairs, with the fours losing to a Ruth Lynch skipped team.  Colleen had a very impressive win against Trish Croot and Gaye and Joy beat Millie Nathan and Kirsty Hill, another strong team.
Mairangi Bay finished top of the section with 21 points with Browns Bay finishing second on 18 points.
Sunday was the top four playing post section play with all teams playing each other.
The first round was against a vastly experienced Orewa team. We lost the singles and the pairs but the fours came away with the win, beating a strong team skipped by Christine Dalzell and led by Jan Harrison.
Second round was against Browns Bay, Mairangi was down early in all games.  Colleen recorded a strong win 21-7, Gaye and Joy came back to win 21-14. The fours were down on the last end until Jan Gledhill's last bowl, which put Mairangi in front and they held on to win 18-17.
Takapuna were leading Mairangi by one point with Orewa two points behind and the final round to be played.
A big task for Mairangi now playing Takapuna, the hot favourites for the title with all their team being North Harbour reps.
Colleen played Selina Goddard who had won 5 games out of 5. Selina bowled amazingly well, winning 21-7. The score did not reflect how well Colleen bowled.
In the pairs Gaye and Joy had a slow start and no luck early on up against Lisa Parlane and Anne Doreen.  They started to get back in the game but went down 24-10.
The fours were up against Wendy Jensen, Lauren Mills, Robyne Walker and Adele Ineson. Mairangi lead early with Rosemary putting in some great bowls and quite often holding the shot to the end. Takapuna clawed back and with a 6 were 1 behind.  Rosemary continued to bowl well, Hanaan also was putting in some great bowls and they managed to win 19-18. A great game and top effort.
Takapuna and Orewa ended up on 19 points but Takapuna won out on differential and will represent North Harbour at the National sevens.
Mairangi Bay finished third on 15 points and they represented the Club amazingly well.
The running of the event was superbly co-ordinated by the awesome Sandra Coombe and her fabulous team.  A big thank you to her team that checked in visitors and scanned their vaccine passes, marked the greens, put out and bought in the scoreboards, the singles markers, the team in the kitchen, the bar team and also the big group of supporters.
Well done to our 7`s team, they should be very proud of their efforts.
Alan Daniels
Junior 1 to 5 Convenor
Selector.
P (09) 4791489      M 0272900127