Wednesday evening 9th December was finals night for this round of our social business house bowls league. The top 4 teams from the round robin played off for the trophy. The remaining teams 20 teams were split into 2 divisions based on finishing order in the round robin. The 1st division played a random draw for the bowl whilst the 2nd division played a random draw for the plate.
Despite some drizzle around 4.30 the weather played its part and cleared nicely to a perfect evening for bowls.
In the first trophy round Dolls With Bowls won against Young At Heart whilst, Bowling Besties narrowly prevailed over Guacabowly. This meant Dolls played Bowling Besties to determine the winner. In a closely fought game Dolls prevailed 10 points to 9 to take the trophy with Bowling Besties an excellent and very close 2nd.
The guys and gal in Guacabowly met the ladies in Young at Heart and prevailed to take 3rd place in the league meaning Young at Heart finished a commendable 4th.
The Bowl was won by the Helensville Hackers whilst the Plate was won by the Smurfs. Well done to you all.
Pictured with their trophy are left to right Louise Rogers, Kath Lindsay, Bev Jamieson and Pam O'Connor. Well done ladies.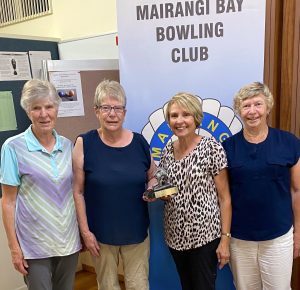 We will have the next round starting early February so if you have friends, family or colleagues who would like to participate in this very popular league let Stuart know. Remember teams can only have one bowling club member the rest must be non members of any bowling club.
Cheers,
Stuart