The latest round of Social Business House Bowls at the Mairangi Bay Bowling Club concluded recently with a finals evening. We were able to complete the round following all Covid guidelines and protocols without too much disruption. All Players and club members who organised the evenings were fully vaccinated.
Pictured are the winning team  of Paul Dean, Warren Suttie, Grant Watson and Glen Godfrey named "The Jack Reachers". The team is pictured with the Rex Redfern Memorial Bowl, a magnificent trophy donated in memory of club Life Member Rex Redfern, who passed away last year. Simon O'Connor the owner of Sentinel Planning and a long term participant in social bowls at the club who donated the trophy, said the size of the trophy is in keeping with Rex's larger than life personality.  Rex's son John Redfern and daughter – in – law Jo Redfern presented the trophy to the winners.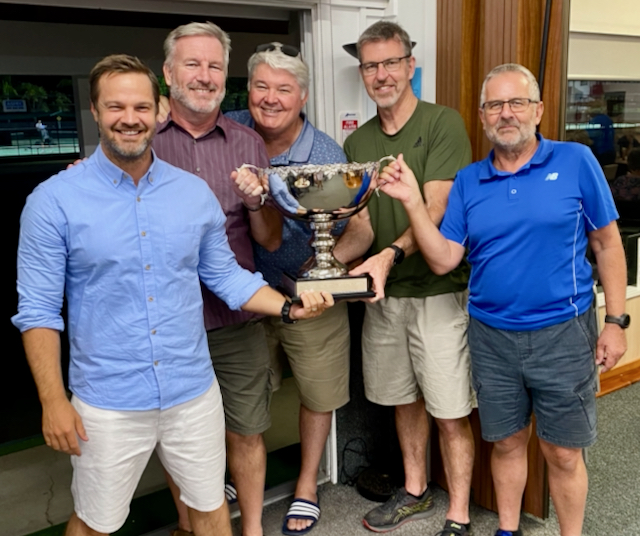 Rex was a retired primary school principal who at one stage during his career  was the principal of the Mairangi Bay Primary School. A long term resident of Mairangi Bay, Rex's contribution to the Mairangi Bay community was such that he was made a life member of both the Surf Life Saving Club and the Bowling Club.
He attended every evening of Social Business House Bowls over many years and each evening as a qualified coach gave some sage advice to participants on ways to improve their game. These often politically incorrect "speeches" were always entertaining and humorous and included advice like "if you ladies want to improve your results you need to stop talking and concentrate on the game" or "some of you need to go to the stationery shop and buy a new excuse  book because you have already filled the  first one with excuses as to why you are bowling so badly"
The club runs 2 rounds of Social Business House Bowls each season, one starting in November and the second one in February. Entry is open to teams of 4 players and no experience is necessary. It is a great social occasion and a chance to mix with and meet other locals. If you are interested in participating contact the club. Details are on the website www.mairangibowls.org.nz .
Stuart Jamieson