The Championship 4's for both Women and Men were held over the weekend in rather trying, humid and gusty conditions.  There was some great bowling and very close results.
The Women's four finalists were (1st qualifiers), Barbara Friedlos, Caryl Mines, Theresa Rogers, Gaye Horne, who played the 4th finalist of Gerd Hutchison, Margaret Elsby, Kathy Lloydd, Margaret O'Carroll, who won that semi-final16/11.  The other semi-finalists were Phyl Humphries, Elwyn Beatson, Jo Baxter, Muy Chhour, who went down 14/13 in an extra end to Sandra Coombe, Noelene Culpan, Gayle Wilkinson, Jeanette Orgias.   
The final between Gerd's team and Sandra's also produced some fine bowling with Sandra's team being the eventual winners 16/12.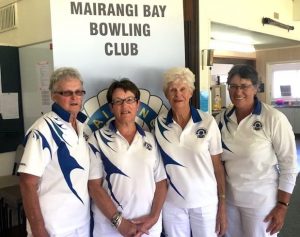 The Men's final was between Leon Wech's and Peter Orgias's teams.
Peter's team, with David Lloyd, Alan Daniels and Allan Langley went through qualifying without a loss, however, they could not get on top of Leon's team of Leon, David Payne, Bevan Darlington and Kevin Cameron.  That makes Leon the back to back skip of the Men's Championship 4's team with David Payne replacing Gary Banks and with Bevan and Kevin returning to the winners podium.