Please note the following:-
A] FAMILY/COBBERS ½ DAY
Due to Bowls North Harbour wanting to use our greens on 6 October, we have rescheduled this half day fun event for Sunday, 20 October still commencing at 1.00pm on the carpet green.
The entry sheet is now up on the notice board so get family and friends booked to participate in a fun afternoon. The bar will be open and a sausage barbecue will be available during the afternoon. No entry fee but a gold coin donation for a sausage. We need to know the approx numbers attending for catering purposes.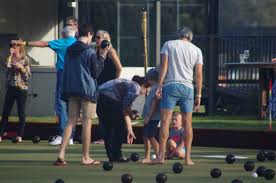 B] CONSISTENCY SINGLES
Because we have rescheduled the Family/Cobbers event to Sunday, 20 October, the Consistency Singles competition will now be on Sunday, 13 October [no change – qualifying] and on Saturday, 19 October [finals day]. Please note your programmes accordingly.
Cheers,
Bruce.