Another great turnout for the 3 games, single entry club day, with strong blustery winds making the conditions rather tricky for some.  It seemed like the equinox had arrived early as we usually get this strength of the wind in October and November.  Let hope it blows through early this year.  At least there was no snow, like in other parts of the country!!
There was just the one three winner team and a whole bunch of two winners and so some unlucky two winners missed out on the prizes.
Congratulations to Jan Gledhill and Gaye Horne who made it three from three and therefore took out first place with 3W, 14E and 28P.
2nd – Norm Clarke and Muy Chhour – 2W, 13E, 21P
3rd –  Peter Orgias and Rick Dixon – 2W, 13E, 17P
Lucky Dip – Theresa Rogers and Margaret O'Carroll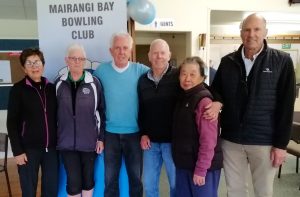 On Tuesday 6 October 2020 the Arena Living, Any Combination Open Triples is being played.