There was plenty of activity on the greens over the weekend with the Women's Championship Fours and the Men's Championship Pairs running on both Saturday and Sunday.
This meant that the Haggle had to take place on our fine carpet green and with a reduced, but still talented and enthusiastic, group of participants.
The best 3 winning team was the team of David Tripp, John McConnachie and Dave Hope.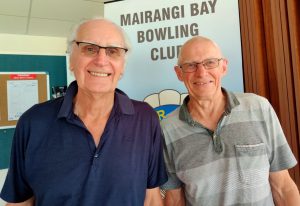 John had to get away prior to the photo session
Also with three wins and just one less end won, were Norm Clarke and John Hanton who therefore took out second place, followed by Michael Cairns-Cowan (sporting brand new Henselite Dreamline XG bowls) and Mick Taylor in the third spot.