The Mairangi Bay Founders is a tournament that goes back to 1979 and was this year sponsored by Greenwich Gardens.  It was originally a fours tournament with teams from all over Auckland participating and taking up two full greens.
Times have changed and even with big prize money, many bowlers do not travel these days.  We appreciate the bowlers who do travel and the visitors who joined us for the Greenwich Gardens Founders this year.
The format changed in 2012 and is now 2 bowl triples over two days: 4 games on Wednesday with the top 8 teams, selected by game points, progressing to Division A and the others to the Plate Division.  Points are not carried over and there are 4 games played on the Thursday in each of the two divisions, with a long list of prizes and no team able to win more than one prize.
The Plate Division was won by Ian Coombe, Barry McCrystal and John Valentine, who, in the Plate, where the only 4 winners on day two.  Runners up, with 3 wins was the team of Ray Glogoski, Wayne Glogoski and Ron Horne.
The 2021 Greenwich Gardens Founders Trophy winners for 2021 is the team of Steve Hoeft, Gary Lawrence and Bevan Smith and the runners up were Lionel Drew, Ruth Lynch and Ian Hardy.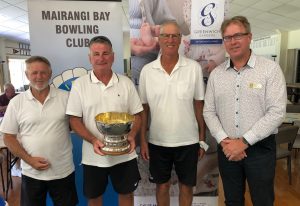 The prize pool was just under $3,000 and with 13 prizes this represents the most prizes and the biggest spread of prizes of any tournament on the N0rth Shore.  See you all there competing next year.