After days of bucketing rain we had fun times, sun shine and another full field playing the Saturday pm Haggle this week.
With 5 prizes and a lucky dip all players had a good chance of being in the prizes, which is one of the main themes for the Saturday Haggle: have fun and spread the winnings around.  That said, 3 wins, or 2 and a whole bunch of ends, were what was  needed to be "in the money", as three teams with 2 out of 3 wins made the "hard luck" list.
The winners on the day were Tony Trent and Glyn Taylor with 3 wins 16 ends and 21 points. CONGRATULATIONS !!!!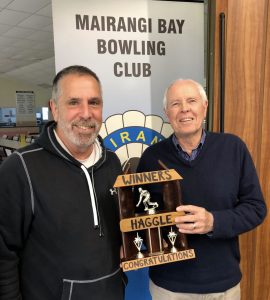 2nd: George Durbridge and Russell Parkinson: 3W, 14E, 18P
3rd: Caryl Miles and Rosemary Nicol: 3W, 11E, 20P
4th: Barry McCrystal and Louise Ball: 2+hW, 14E, 23P
5th: Leon Wech and Jim Center: 2W, 13E, 34P
Lucky Dip: Arthur Beale and Stuart MacKay
Special thanks to Gayle Wilkinson and Leon Wech for sorting out the blind draw and setting up the rinks for play. Garth and Colleen managed the bar.  Thanks also to Arthur Beale who hosted, coached (assisted by Bob Mullen) and organised 24 young people who came along for a social evening of bowls.  Great to have the extra laughter, chatter and energy in the club from a bunch of well mannered well behaved young locals.  They said they really enjoyed the bowls and the hospitaility and some showed natural bowls talent.