Once again, thanks to Gayle and Leon, we had a full field for the Saturday afternoon Haggle.  There was laughter, fun and chatter aplenty, with some of the chatter coming from teeth and knees as the chill winds gusted through from the east. It would be interesting to know the average number of layers of clothing worn and perhaps there could be a prize for the least and most layers of clothing??
Winners of the 2-4-2, drawn partners competition was the team of Neville O'Connor and Gayle Wilkinson who were the better of the 3 winners with three wins, 18 ends and 40 points for and just 11 against.
C O N G R A T U L A T I O N S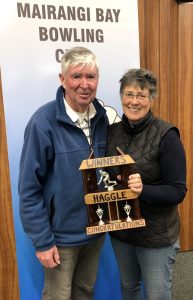 2nd: Brian Nolan and Pat Clarke – 3W, 14E, 35P
3rd: Jeanette Orgias and Mick Taylor – 2 and a half W, 14E, 22P
4th: Ian Hardy and Louise Ball – 2W, 13E, 30P
5th: Steve McGregor and Stuart MacKay – 2W, 12E, 19P
Lucky Dip: Norm Clarke and Margaret O'Carroll
Many thanks to all those who help make this such a successful event, including Gayle Wilkinson, Leon Wech, Ian Hardy and Russell Parkinson.  Thanks too to the players who were called in at the last moment to complete the field and to everyone who helped with the pack up at the end.
There will be no Haggle on Saturday 8th August as the carpet green has been committed to Bowls North Harbour for a centre event.  The sheet for the 15th August is up at the entrance to the clubrooms and is filling fast.