YEAH!!  A stunningly fine and warm Saturday afternoon and a good size field of 36 competing in the 2-4-2 Saturday pm Haggle.  It really is a pleasure to be playing on our natural grass greens and the tight results reflect the quality of the teams and the system used to draw the teams.  Many thanks to Rex for all his knowledge, skill and dedication to make it such a pleasurable Saturday afternoon.
Out on top, with 3 wins, 16 ends and a whopping 38 points, was the combo of Allan Langley and John Lindsay. Brilliant effort guys!!!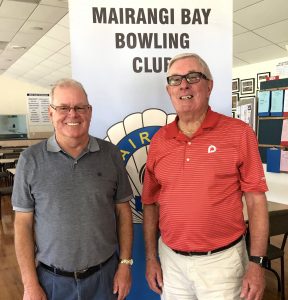 Next and in second place were Con Cater and Ron Horne who managed 3 wins, 14 ends and 23 points.  The third place went to Barry McCrystal and Graham Ward who had two and a half wins, 13 ends and 24 points.  And while there were many teams with two wins, taking out fourth place was the team of Steve McGregor and Jim Center, who had 2 wins, 13 ends and 22 points.