Just another stunning afternoon for bowls and a full field of 36 players occupying the 9 rinks on our carpet green: what a great asset to the club the carpet green is!!!
The Saturday afternoon fun Haggle is played with partners being drawn rather than being entered as a team, which means that the games are always competitive.  3 games of 2-4-2 are played throughout the afternoon. Often, after a couple of wins in the first two games, things can fall apart in the third game. Or after a slow start, the next two games can see a team combine to win the next two.
This Saturday, the results were unusual.  While there was a team with three wins, it's not often that the result of a game is a draw. This week, however, second, third and fourth places went to teams with 2 wins and a draw.  This makes the organisers check and double-check the ends won and the points for, which are the scores that determine the placings.
The team with 3 wins was Gaye Horn and Gerd Hutcheson.  CONGRATULATIONS!! You played some strong teams and left the rest of the field in your wake, by winning 14 ends and 31 points.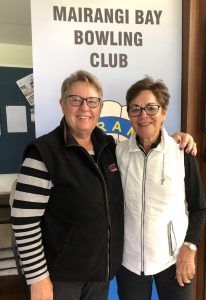 Of the 3 teams with 2 and a half wins, Leon Wech and Rick George had the best ends won, 14, and scored 24 points for, 9 against.  Next up were George Durbridge and Graham Ward with 14 ends, 24 points for and 13 against.  And then Les Boulton and Russell Parkinson with 11 ends and 25 points for.  Peter Orgias and Glenda Rountree (who proclaimed that she had not played since February, however showed the form of a class player, welcome back) were the next place winners with 2 wins, 12 ends and 27 points.
Congratulations to all players and thanks to Gayle and Ian for sorting out the field and setting up the rinks and the music. Did anyone notice the irony that the battery in the speaker ran out when the song "Hello Silence My Old Friend" was playing??????  The music adds so much atmosphere to the afternoon and it is missed when it's not there.
The starting sheet is up for next week with just one place to be filled.  Extra names will be added to the waitlist and, as sometimes happens, these people can be added to the field if an entrant has to pull out.  Do not delay, get your name down as soon as you can.  Entry for the afternoon is just $7.00 per person and the start time is midday.
Enjoy your bowling over the next week
and see you all at the Annual General Meeting on Saturday at 9:30am