On another hot and fine afternoon, the Saturday Haggle was played on one green while the Men's Championship Singles featured on the other green.  It was great to see both greens being utilised.
The only 3 winner of the Haggle was the team of Con Kater and Gaye Horne.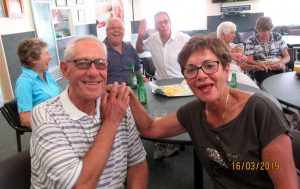 The second place was very close with John Smith and Peter Rudgley one end ahead of Muy Chhour and John McConnachie with 2 wins.
Rex.