Another strong field lined up for the Saturday afternoon Haggle.  With many new bowlers entering this popular competition, the format pairs them with some very experienced bowlers and this tends to even the field and produce some interesting results.
Today's winners was the team of Garth Partridge and Tony Popplewell who managed 3 wins, 16 ends and 29 points.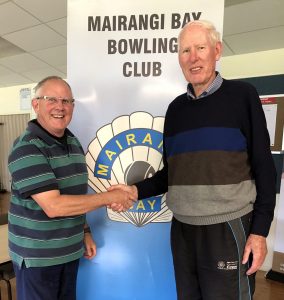 Runners up were Con Cater and Muy Chhour who had 3 wins, 14 ends and 29 points.  Another three winning team was the team of Allan Langley and Graham Ward who won 12 ends and had 27 points.  Well done also to Alan Telford and Peter Rudgley who were the best of the two winners with 12 ends won and 18 points.
Many thanks to Rex for organising the teams and for running the day.  With the Consistency Singles being played out on the other green the Haggle field relied on Rex's timepiece to signal the end of each game with most line-ups managing to commence their 8th end in the allotted time.