With the Bowls North Harbour, Bowls3Five happening across the region and on our Knightsbridge green, the field for this weeks Haggle was lightly smaller than normal.  This did not hamper the fun, camaraderie and competition.  The Mayfair Green was running very well, with the breeze making things a little tricky.  Overall very pleasant conditions.
The Saturday pm Haggle is a single entry event of 3 short games of 2-4-2 starting at 1:00pm.  Each week the start sheet is circulated at the end of the event and is then in the cabinet by the main entrance to the club house.  On the morning the teams are blind drawn.  The event is open to all members and with the blind draw system pairing new bowler with experienced bowlers, the results are usually shared around.
Many thanks to Gayle for organising this weeks event and to the others who turned up early to help setting up the green.  Also thanks to those who helped put the gear away after the event.
This week, the top prize went to the combination of John Smith and Rosemary Nichol with 3 Wins, 15 Ends and 32 Points.
C O N G R A T U L A T I O N S ! ! ! ! !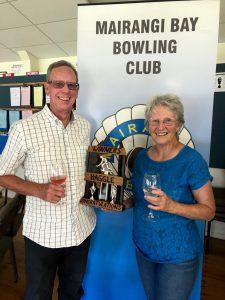 2nd – 3W, 12E, 29P – Jeanette Orgias and Jim Center
3rd – 2.5W, 13E, 24P – Norm Clarke and Joy Finney
4th – 2W, 13E, 25P – Steve McGregor and Michael Thomas
Lucky Dip – Pat Clarke and Margaret O'Carroll