The field for the Haggle was missing many of the regular experienced bowlers, however the enthusiasm from our new bowlers in the field made the day enjoyable and fun.  Quote of the day goes to Russell Parkinson who said "it looks like the battle of Waterloo with balls going everywhere!"  The funds in the wrong bias box were swollen, which will be appreciated by Hospice when they receive the donation. (a wrong bias bowl costs a gold coin donation to the wrong bias box and a ring of the bell, and that's one ring of the bell and one coin, per wrong bias bowls – it's a tradition!!)
Rachael Long and Marion McDonald were the only team to register 3 wins and therefore took out the top spot and the photo opportunity.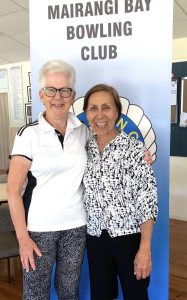 C O N G R A T U L A T I O N S – Marion and Rachael
2nd- 2W, 16E, 24P – Ian McGovern and Stuart MacKay
3rd – 2W, 9E, 24P – Jim Center and Ralph Cullen
4th – 2W, 9E, 19P – Dave Payne and Bill Roan
Today we also welcomed a new member, Mary Harvey, who started in her very first competition after a few coaching sessions from Phyl Humphries.  Mary put down some really good bowls and it looks like her experience on the golf course and her participation in many other sports will see her shine in lawn bowls.  Welcome Mary.