Roll on summer, roll on Labour weekend, roll on the 40 participants in our Saturday afternoon Haggle.  Yes, the conditions were just about perfect, as the scores reflected, with 3 of the teams recording three wins out of three.
Congratulations goes to Steve McGregor and his partner, new bowler, Faye Kitchen. They had 3 wins, won 15 ends and had 36 points. That is an extremely good result Faye and Steve.  Very well done!!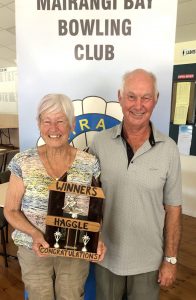 2nd – 3W, 14E, 26P – Ron Horne and Flora McDonald
3rd – 3W, 13E, 27P – Peter Orgias and Rosemary Nichol
4th – 2.5W, 13E, 22P – Leon Wech and Enid di Cesare
5th – 2.5W, 12E, 19P – David Payne and Joy Finney
Many thanks to Gayle and Leon for sorting out the draw and managing the day. And also many thanks for all those who arrived early to help set up the greens and to those who helped put away the gear.  It is very encouraging to see how many people are helping to make the day run smoothly by each doing their bit to set up and pack down.  Thanks to you all!!
The sheet for the Haggle next Saturday is up at the entrance to the club rooms. Many of our players will be involved in the Bowls North Harbour Pennants competition, however the field will still be strong and the fun will be there for the taking.  See you there.