Both grass greens were in action for the first time this season, with the Women's Championship Singles being played on Mayfair and the Haggle on Knightsbidge.
For many of our newer members this was their first experience of playing on the natural grass surface, a surface that will only get quicker as the warmth of the summer sun and the breezes of October and November dry it out and harden it up.
There were three teams who managed 3 wins.  Two had the same number of  ends won and so it came down to a single point that separated second from first.
Congratulations to Caryl Miles and Rick George who took out the first place with 3 Wins, 15 Ends and 27 Points.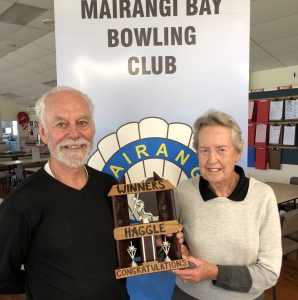 2nd: 3W, 15E, 26P – Steve McGregor and Phil Chisholm.  Welcome back to bowls Phil.  Great to see you back with your super smooth delivery sending your white bowls down to snuggle next to the jack.
3rd: 3W, 14E, 18P – Allan Langley and Russell Parkinson
4th: 2W, 13E, 28P – Alison Rennie and Priscilla Page
Lucky Dip: Margaret O'Carroll and George Durbridge
Lucky Dip: Jim Price and Graham Ward
The sheet for next week, Saturday 3rd October,  is up by the main entrance. The Mixed Consistency Singles is also being played and therefore the field for the Haggle will be smaller than usual, however, with the numbers already registered, it will also be as just as competitive and as much fun.
A gentle reminder to all. 
There are some task to be done prior to and post any event, and a number of our members consistently turn up early to get things set up, which is fantastic. We all benefit from their efforts and thank them for helping the event run smoothly.
At the end of play, everyone who has participated is able to contribute to putting the gear away and tiding up the rinks.  So please do you part and do not leave it to the few.  If you see some mats lying next to a trolley, don't just walk by to put your gear in the car or go to the bar.  Stop, pick them up and put them in the trolley.
You, as a participant in an event, are responsible for club property, so you need to be aware what needs to be put away and you need to do your bit to help.