There was a good number of players taking advantage of the perfect bowling conditions for the Saturday afternoon Haggle this week.  The format of 3 short games of 2-4-2, with the teams made up through a blind draw, matching an experienced player with a less experienced player, makes for some very close results.  The 2-4-2 format gives all bowlers the chance to stand at and direct the head and Saturday afternoon is the ideal time to practice some of the shots that are not played on other competition days.
The winners for this week were Tony Popplewell and Norm Clarke as they had 3 wins with 17 ends and 35 points.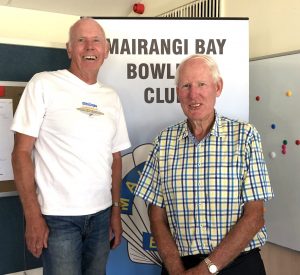 In second place were Tony Trent and Rosemary Nicol with 3 wins, and 16 ends.
The closeness of the field meant there were many 2 winners, however the prizes are for the top 4 places and so some of the two winners missed out on a payout. Not Peter Orgias and Beth Drummond however, who took out third place with their 2 wins, 13 ends and 26 points, and oh so close in fourth place were Russell Parkinson and Jim Center, who were just one point shy of third place.